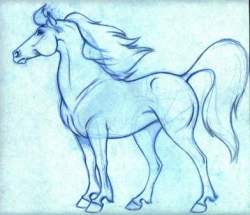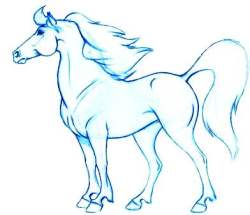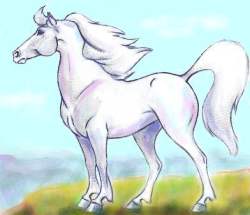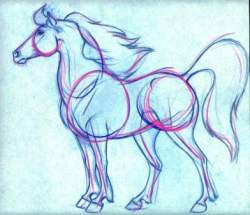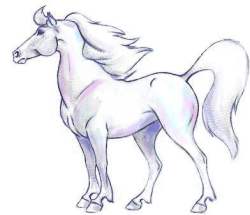 First things first! Try sketching your horse with big basic shapes, with very little detail. Do this a few times until you feel your shapes are working well together to build the basic shape of the whole horse.

Now try adding some detail. It's OK to leave your original rough shapes in the drawing at this point.

When you feel your horse drawing is looking the way you want it, you can start erasing the really rough lines.

Sometimes you might want to retrace your drawing on a clean sheet of paper. You can tape your original one to a window, and place a clean sheet on top, leaving out the rough lines you originally started with.

Now, if you like, you can add some colour! Depending on the type of paper you use, you can try different things, like water colour paint, pencil crayons, or pastel.

If you want to add some scenery, make sure it doesn't interfere with your horse drawing! For now, just add a little, and we'll learn more about backgrounds in another lesson!

ANY QUESTIONS? JUST ASK IN THE GUEST BOOK !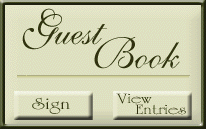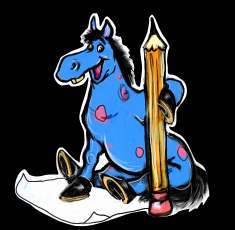 All Rights Reserved ~ Bloo Copyright Protected 2001-2008 by Animotions Studio

Guess What! I've had so many emails from this site begging for more lessons, I've set aside some time to update the "draw-horses" page and will be adding information and drawing tricks soon! Also, I will be adding a feature where your art will be published  on the net! So get your pencils moving, let's DRAW HORSES!!!

See you shortly,

Your True Bloo Pal!

Send your drawings as jpegs, no larger than 250x250 and we'll publish them on the net! Include your name, age, and email, and any other information you like! Looking forward to seeing great horse drawings!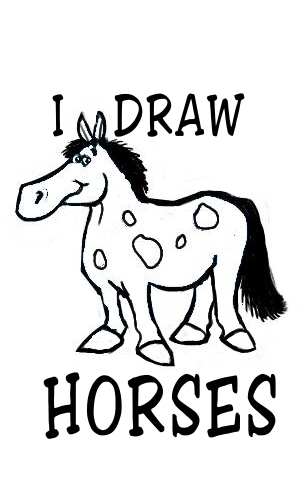 ORDER  A TEE SHIRT OR AN

OFFICIAL "I DRAW HORSES" BOOK by Maureen Shelleau

Draw a Black Stallion ~ Coming Soon!